12/03/12
By 2004 the Picture Queensland project had digitised over 300 images of churches throughout Queensland. It was therefore in a position to help the National Trust of Queensland celebrate its 2004 Heritage Festival on the theme of Beacons of Faith – Places of Religious Significance.
Churches were (and often continue to be) an important part of the fabric of their community and often the centre for spiritual and social gatherings. Townships all over Queensland are represented in the Picture Queensland collection, including Chinchilla, Mount Morgan, Coolangatta, and Hughenden.
j
Founding a church
It was obviously not possible to perform a foundation stone ceremony in the case of the wooden churches in Queensland, so stump capping was sometimes employed as an alternative method of celebrating the initial stages of the construction of a church. Another phenomenon largely restricted to the timber churches of Queensland was the physical removal of these buildings from one district to another. An instance of this is the Charters Towers Baptist Church in the process of removal to another site. Some congregations out west did not have a religious structure for worship at all as in the case of the Methodist Bush Mission which spread the gospel from the back of a covered wagon.
In Brisbane, many of the suburban religious structures are featured, with photographs of the dedication of St Brigid's at Red Hill, the erection of St. Matthew's Anglican Church at Sherwood, a Sunday School group gathered outside St James' Anglican Church at Enoggera and the results of a violent storm on Christ Church at Milton in 1890.
Plans for the erection of cathedrals did not always proceed as expected. The foundations of the Holy Name Cathedral in Ann Street were laid in 1928, though the cathedral was never built. Now, a block of apartments has been erected on the land. St John's Cathedral has also been a continuing saga, for even though the foundation stone was laid by the Duke of York in 1901, the building is still not complete.
j
Brisbane's Michelangelo
Brisbane had its very own Michelangelo in James Wieneke, a well known artist who painted the roof of St Joseph's Church at Kangaroo Point. St Theodore's, the Greek Orthodox Church in Townsville and the St Nicholas Russian Orthodox Church in Brisbane illustrate the multicultural aspects of the Queensland community.
Some of the great architectural structures in Brisbane are churches situated on spectacular sites with commanding views. They have been designed and built at huge expense by the most prominent architects, engineers and builders of the period. A large proportion of these buildings remain basically unchanged and are a significant part of our cultural heritage.
o
1947 Greeks churches groups (people) Greek Orthodox priests religious groups Townsville – Churches – St. Theodores Greek Orthodox Church, 1947 Townsville (Qld.)
Congregation and priest outside St. Theodores Greek Orthodox Church in Townsville, 1947.
k
Laying of foundation stone for St.Theodore's Greek Orthodox Church, 1947
A Greek Orthodox priest applies mortar to the foundation stone of St.Theodore's Greek Orthodox Church in Townsville on 16 March, 1947.
k
k
With the upcoming Greek Fest this weekend in Townsville why not take a look at some of the historic photographs held in the North Queensland Photographic Collection that depict aspects of the Townsville Greek community.
As usual, if you have anything you would like to share with us about any of these images or the people in them, we would love to hear from you.
k
Greek Church in Townsville
9

Inter-church ministers, 1983
k
Greek Orthodox Church
0

His Eminence Metropolitan Timotheos.
k
On the 23rd March 1947 he laid the foundation stone of St. Theodores Greek Orthodox Church,Sturt Street, Townsville.
.
"PHOTO NICHOLAS HELLEN WALKING HIS DAUGHTER HELEN TO THE CHURCH WHERE SHE MARRIED HARRY MASSELOS NOVEMBER 1951 TOWNSVILLE QUEENSLAND" 04/11/51 portraits fathers brides bouquets wedding parties wedding dresses Hellen family (Portraits) Townsville (Qld.)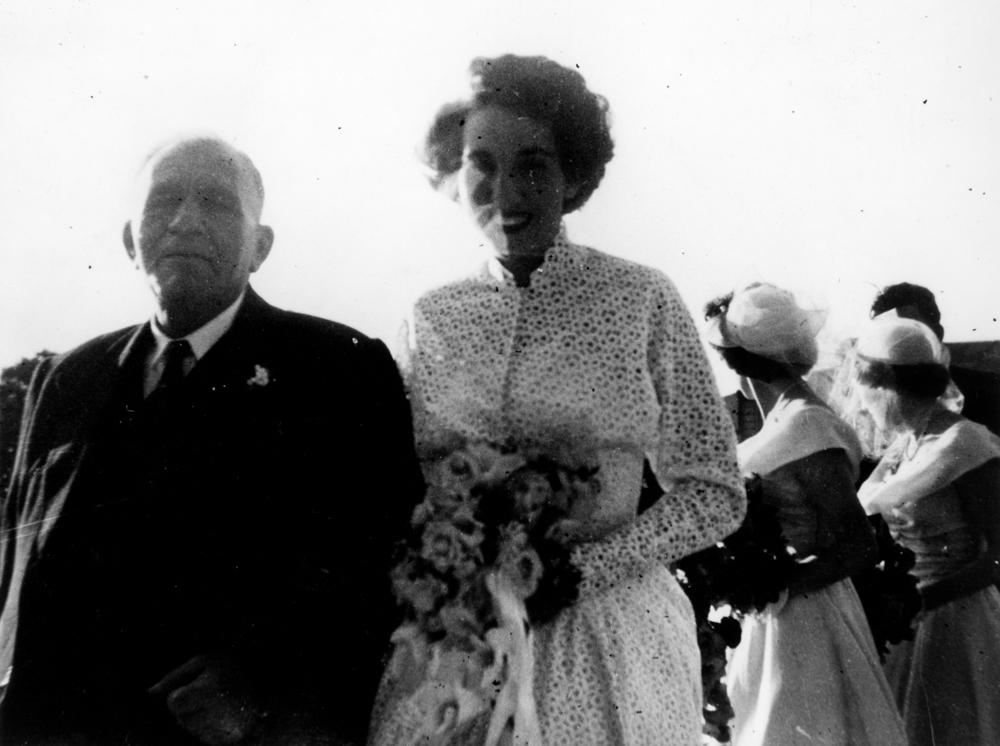 St. Theodores Greek Orthodox Church, Townsville
St. Theodores Greek Orthodox Church, Sturt Street, Townsville, Australia, begun in 1947 and completed in 1950.
k
[1971 25th March dance – Children with Senator George Georges of Queensland in Melbourne for the occasion]
i
Group of men, possibly including proprietor, staff and clients, pose with a dog outside the N. Andronicos Olympia cafe. The shop awnings and signage are prominent. The cafe appears to advertise lollies, ices and tobacco.
.
Jack Mavromatis sits and reads a book in the yard behind his cafe. He wears a small bow tie. Some washing hangs from the line. A house on the adjoining property can be seen over the picket fence.
i
At the beginning of the official life of the Greek Community in Brisbane – the cast of 'Golpho' – a play produced in 1921 (probably at the Hellenic Club in Charlotte Street). At this time, there were only about 100-150 Greek families in Brisbane. (Description supplied with photograph.)
In the back row, third from the left, is Minas Logothetis holding a kitten. Fifth from the left is Anargeroo Megaloconomos holding an accordion. In the front row, second from the left, is Nicholas Logothetis. Fourth from the left is Peter Motis. All except three people of this gang were from the Greek island of Kythera (Description supplied with photograph).
Children from the Greek School performing in their annual theatre production at the Hellenic Club in Charlotte Street. This performance was probably intended to commemorate Greece's heroic past and War of Independence (Description supplied with photograph).
DescriptionFront row: Jim Mavromatis, Mr. Politinski (conductor), Canon Garland, Archbishop Timotheos (Greek Orthodox Metropolitan in Australia), Christy Freeleague, Father Papadopoulos (St George's priest), E. Venlis.DescriptionSecond row: George Trovas, Maria Anthony Freeleagus Kyriakos Koutsakos, Antigone Peter Freeleagus, Zoe Dragons, Manuel Trovas.DescriptionThird row: Xenophon Karandreou, Frank Freeleagus, Peter Drakakis, Jim Paschalites, Sophocles Trovas, Charlie Peter Freeleagus. (Information supplied with image)
The business was started around 1911 by John, Theo, Arthur, George and Paul Comino. During the cane cutting season, more than a thousand seasonal workers came to Childers. This cafe became a meeting place for Greeks working in the district. (Description supplied with photograph.)
Crowd at the dedication of the site of St George's Greek Orthodox Church, Charlotte Street, Brisbane, 1928, on the Sunday between 31 October and 3 November. From left to right are Manuel Samios, Alec Kontozoglu, Peter Freeleagus, Charles Freeleagus, Father Elias Kotiades, Christy Freeleagus, George Faros, Theo Katrakis Mr Mauromatis and Angelo Koukias. (Description supplied with photograph).
Photograph of the interior of the Palmos' fruit shop on the corner of Heidelberg Street and Lytton Road, East Brisbane. Flora Nott, nee McNeil was the children's aunt.
Elizabeth and Jerry Palmos went home to Greece in 1947 to visit relatives. Denny Palmos in the back row, extreme left. (Description supplied with photograph.)
Archbishop Timotheos with parishioners at Gympie, 1930-1940.